Enhancing Efficiency and Minimizing Errors: Discover the Power of powerGate for Vault-ERP Integration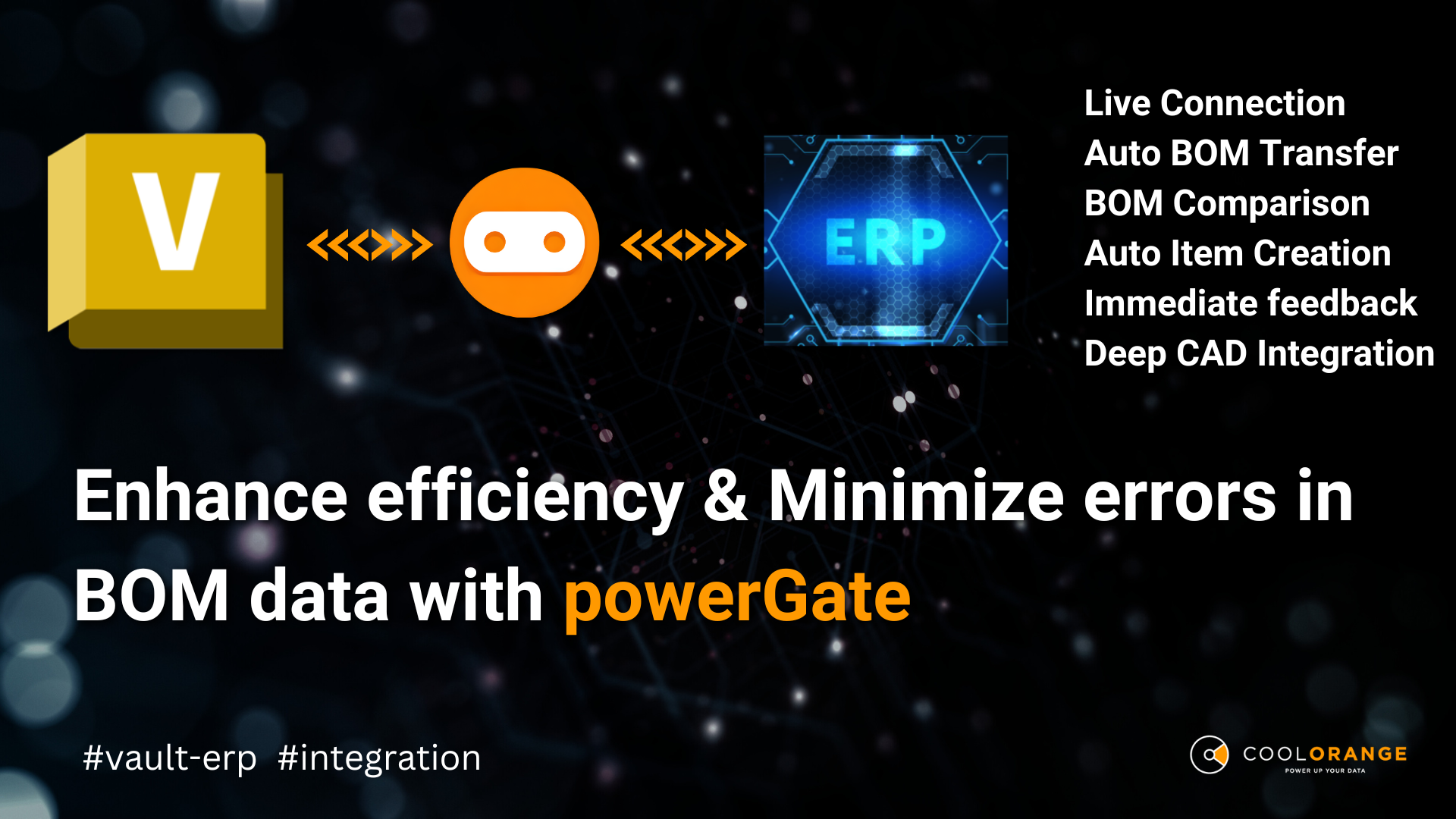 If you're familiar with engineering departments and the processes they go through, you'll understand the pain of trying to avoid purchasing the incorrect part/product from an outdated design. And as the saying goes, "time is money." So what happens when you waste your engineering team's time on tedious data entry, transfer detailed item records, and complex BOMs? You end up delaying manufacturing, increasing lead time to production, causing production waste, and causing assembly line delays. Small errors like this could set you back thousands of dollars, even more than the entire engineering department's budget for the year!
This is where powerGate can help. powerGate is a highly customizable tool that allows you to transfer information from Vault and Inventor to your ERP system, ensuring compliance with business rules and standards, and helping you avoid costly procurement or manufacturing errors.
1. Ensuring Data Accuracy and Compliance:
powerGate eliminates the risk of purchasing the wrong parts or products based on outdated design information. By ensuring compliance with business rules and standards, powerGate improves data quality and minimizes errors. Design engineers can rely on the most current and accurate information, reducing the chances of lead-time delays, production waste, and assembly line disruptions.
2. Boosting Engineering Productivity:
Say goodbye to tedious data entry tasks that consume valuable engineering time. powerGate simplifies the transfer of detailed item records and complex BOMs, allowing design engineers to focus on what they do best: innovation and design. With improved efficiency, engineers can expedite their design processes, enhance productivity, and deliver projects on time.
3. Minimizing Errors and Costly Mistakes:
The cost of procurement or manufacturing mistakes can be staggering. A single error can result in scrapped materials, rework, dead stock, and excessive production waste. powerGate's integrated approach minimizes BOM errors and ensures accurate data transfer, saving companies significant costs and resources. By connecting Vault, CAD, and ERP systems, powerGate mitigates the risk of costly mistakes and enhances the overall profitability of a business.
4. Customizability for Any ERP System:
powerGate stands out due to its high level of customizability, allowing seamless integration with various ERP systems. Whether it's manual data input or fully automated solutions, powerGate adapts to meet the specific needs of each customer. Its versatility and wide range of components make it possible to realize integrations with different ERP solutions, creating tailored solutions that fit unique business requirements.
powerGate's high customizability makes it a great tool for integrating any ERP system with Vault and Inventor. By using the many components available, you can create manual data input or even a fully automated solution. This drastically improves data quality, reduces lead times, minimizes production waste, and increases engineering productivity. Don't let outdated designs and tedious data entry slow down your manufacturing process and potentially cause costly errors. Try powerGate and discover the power of ERP-Vault integration today by downloading the product or request a free demo from our experts.