The new powerPLM
We are super excited to finally release the brand-new version of powerPLM, which connects Vault with Autodesk Fusion Manage in a modern and flexible way and to supports any imaginable workflow.
This was a long journey. Back in 2014, we wrote the first blog post about this topic. Back then Autodesk Fusion Manage was called PLM360, and our intention was to create a PowerShell extension for the Autodesk Fusion Manage API to so easily connect Vault to PLM in a flexible and simple way. Unfortunately, PLM360 moved in other directions for a while, and in 2018 Autodesk Fusion Manage and Vault fell in love again and so we thought now the time is right.
To capture the moment, we developed vaultPLM, a super simple, ready-to-use, not customizable connector that allowed to connect Vault to PLM in 4 predefined workflows in less than 10 minutes. vaultPLM had been officially released and introduced at the Autodesk OTx conference in Barcelona last April.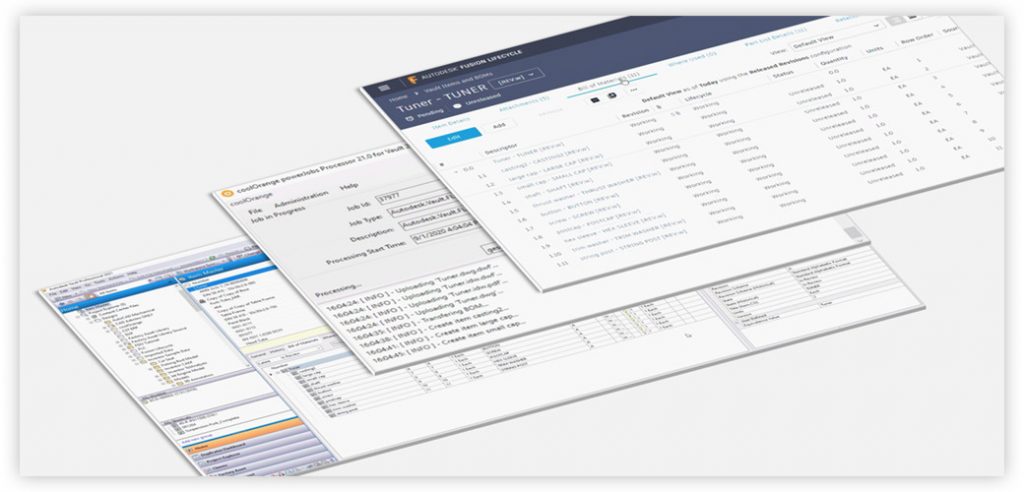 We knew that, while the 4 delivered workflows addressed the right topics, the lack of customizability would be a problem. Let's face it – it's all about connecting processes and processes are individual, one way or the other. So, we used the time to learn from customer projects and went back to the original plan to create a PowerShell version of the connector that can be adapted to any need. The first version of powerPLM was available with the release of our V21 products this April of this year but without preconfigured workflows. It was an insider version for people who know how to write scripts.
With this new version of powerPLM, we finally completed our mission. powerPLM has now a ready-to-use workflow that was designed and implemented together with the Autodesk team. It intelligently links the Vault item Bill of Material to Autodesk Fusion Manage. The new configuration dialog box allows flexible property mapping and flexible job settings. In addition to the workflow settings, it is now possible to optimize and improve the workflow as needed through scripting.
Other workflows are in preparation, such as linking change requests between Vault and PLM, publishing files, and more. We will make such workflows available as templates through our GitHub site, and once we have gathered enough project feedback, we will add them to the product.
powerPLM runs on powerJobs. This means that tweaking existing workflows or creating new workflows is as simple as creating a new powerJobs job. The simple PowerShel cmd-lets allow you to create any sort of workflow, and in combination with the powerJobs and powerVault cmd-lets, connecting Vault with PLM becomes easy and fun.
There is one more thing: powerPLM also runs on the Vault client. It works with powerEvents and Vault Data Standard (VDS). So it is now possible to create workflows that require user interaction (through VDS) or are time-critical (through powerEvents). Imagine releasing an assembly in Vault and using powerEvents and powerPLM to perform checks against PLM and prevent non-conforming parts from being released. Or you create something in Vault, like a new project with VDS and powerPLM, and collect or send data from/to PLM. In addition to the workflow automation made possible by the Job Processor and powerPLM, we can see a variety of scenarios with user interaction and compliance checks on the Vault Client that will wire even more Vault and PLM as a seamless platform.
We are excited about all the cool projects that will be done with powerPLM. We look forward to working with you and hearing from you.